Playful Style Reinvents a Childhood Home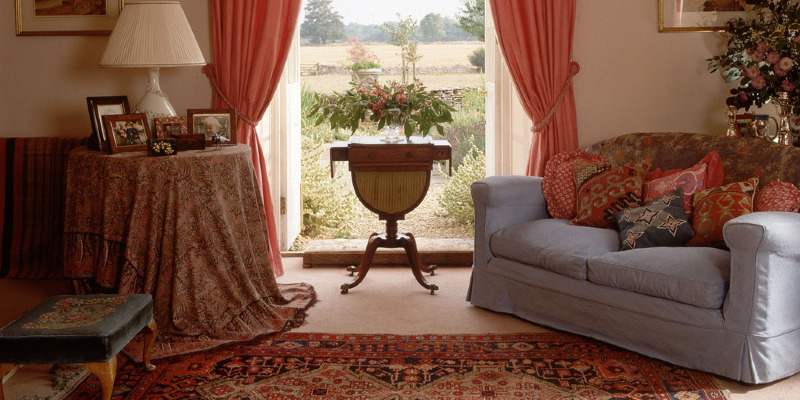 This beautiful 1923 cabin was Karin Blom's childhood home. When her parents passed away, Karin moved out of her San Francisco apartment and back to the Bay Area suburbs, determined to make her parents' house her own.
She was only when she moved into eight decades ago, but Karin shortly got married, and her husband joined her at the house. Today the home reflects a blend of the pair's lively styles and accumulated furniture, together with Asian accents, primary colors and a mix of modern and traditional pieces.
in a Glance
Who lives here: Karin and Jim Blom, along with children Christian and Maija
Location: San Anselmo, California
Size: 2,300 square feet and 450-square-foot basement
Alex Amend Photography
Karin set up the home's living room with an eclectic array of traveling finds, custom pieces and classic furniture. She'd steam-bent beech seats from 1906 reupholstered at a basic suzani. The huge wooden armoire on the left, common to 18th-century England, is referred to as a breakfront. "Jim had it in his old house, and as you can see, it is quite large," says Karin. "What woman would really come with a house able to accommodate this type of tall and large piece? Me!"
Rug: jute, custom out of Natural Area Rugs; mirrored side table, Suzani seats: Ed Hardy; zebra rug: Alameda Flea Market; crimson and yellow pillows: Bali
Alex Amend Photography
Although she insists that the majority of their fine furniture is out of her husband, Karin donated many Asian-influenced pieces from her journeys to Portugal, Bali and Thailand.
Alex Amend Photography
Karin saw the wallpaper in the entryway at a magazine six decades ago and had to have it. The chandelier was found at a nearby store; she highlighted it with faux butterflies.
Background: discontinued; table: Ralph Lauren; chandelier: Bloomworks; butterflies: Studiolo; African shield: Ed Hardy
Alex Amend Photography
A family room from Jim's family, this magnificent Norwegian chandelier stands out as the table centerpiece. Beautiful seats passed down from Karin's parents are re-covered at a Marimekko fabric.
Table: Ralph Lauren
Alex Amend Photography
Karin decided this red toile wallpaper to add a traditional touch to the dining space.
Bar table: Ralph Lauren; wallpaper: Pierre Deux
Alex Amend Photography
The main living room was the first room the couple redesigned together. They kept the all-white walls and added colour to Jim's furniture with blankets and cushions in bold colors. "He's better style than me," says Karin. "I have heard a lot from him"
Alex Amend Photography
Two months later Jim moved in, the couple began in on the kitchen. Karin had it painted Tiffany blue with glowing red cabinetry at first — to have a large and bold change without having to spend a lot of money — but they later decided to do a complete remodel.
Alex Amend Photography
Kraftmaid cabinetry has an extra dose of traditional design with hardware from Restoration Hardware. The couple also decided to stick to antique Carrara marble counters and a Shaws Original apron-front sink. "We wanted to bring in a traditional style, since that's the taste of the rest of the house," says Karin.
Alex Amend Photography
While the majority of the primary spaces have a white colour foundation, Karin added primary colors through quirky patterns and lively accents.
Alex Amend Photography
The master bedroom deep blue walls are a sudden departure from the rest of the property's wall colors. The couple found themselves on HGTV's Design Remix many decades past, and also their master bedroom got a brand-new look. They adjusted the design but kept the blue.
Alex Amend Photography
Custom window treatments made of fabric from Calico Corner add a lively contrast from the bright blue space.
Alex Amend Photography
An adjoining office space with plenty of natural light sits directly beside the master bedroom.
Round mirror, desk: Ralph Lauren
Alex Amend Photography
Christian's room has only enough boyish bits to make it enjoyable. The beautiful bed was Karin's when she was small.
The window, which looks into the living room, once offered a view outdoors — until the family room was added in 1976. At one point there was a big pub where Christian's room is now.
Rug: Rug Company; bedding: Roberta Roller Rabbit; lifeguard sign: flea market
Alex Amend Photography
Maija's room explodes with colour and girly touches. Karin painted the ceiling warm pink on a whim, and the bright color makes the whole room glow. This adorable armchair is really a little couch from Karin's grandma's house she had reupholstered.
Alex Amend Photography
The couple recently gave their basement an update. It had been formerly dark and packed with random storage, however, the remodel produced a great explanation for them to eliminate things. No major structural changes were needed, so the process was straightforward and easy.
Doors with this bottom narrative open into the principal street level.
Chair: Price Plus; rug: The Floor Store; seats: Benni's; java table: Etsy
Alex Amend Photography
A blue couch around the corner provides extra sitting space. Inspired by a couch they found in Benni's, they made this setup out of timber pallets and reupholstered exterior cushions.
The stuffed marlin commemorates one Jim captured in Cabo San Lucas, Mexico; that you had been too expensive to stuff. This one was found by Karin in an antiques store on the cheap.
Pallets: Uline; ottoman: John Robshaw
Alex Amend Photography
"I didn't feel like I had to pay tribute [to the old design], as my parents simply loved this home," says Karin. "I'm very happy and joyful, and I believe my parents could be too, since we love this home, too."
Are you currently living in the house you grew up in? We'd love to see a photo and hear about your home.