Window Love in a Midcentury Texas Home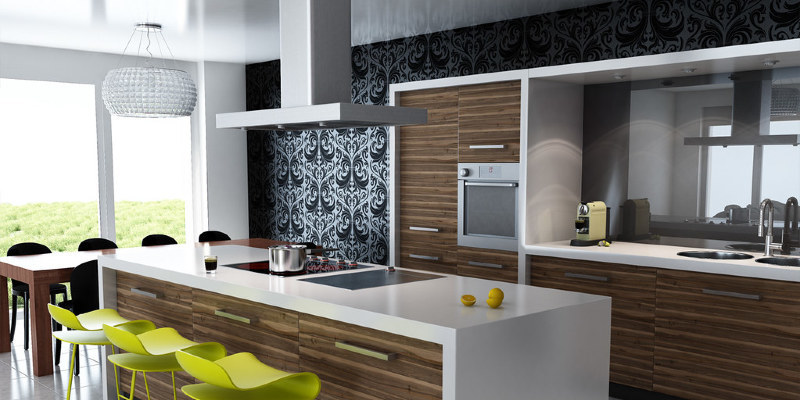 For Morgan and Monica Campbell, it was about the windows. Clerestory windows in the living room, floor-to-ceiling windows in the dining area and extra-wide windows in all three bedrooms generated the airy, expansive atmosphere they were searching for in their very first residence. "The second my husband and I walked in, we knew we were done searching," says Monica.
The Campbells have spent the past 18 months giving this 1955 house bright updates — everything from painting their bedroom chartreuse to tiling their kitchen backsplash into building their own headboard has helped make this house a house.
at a Glance
Who lives here: Morgan and Monica Campbell and their bichon frise, Griffin
Location: Heights Park area of Richardson, Texas
Size: 1,600 square feet;3 bedrooms, 2 baths
Sarah Greenman
An open floor plan, natural wood beams running throughout the house and a midcentury modern style were all significant selling points for the couple. A painted brick fireplace and wood accents make a cozy and inviting atmosphere.
Wall paint: Nimbus Cloud, Martha Stewart Living; bookcase: Expedit, Ikea; lounge chair: Eames, through Craigslist; light fixture: Atomic, High Fashion Home
Sarah Greenman
The house itself provides the couple with layout inspiration. "We love clean, straightforward lines and authentic stuff in our decor,so our taste is a perfect fit for the house," says Monica. "It makes the decorating process more natural."
Concert and theatre posters frame the media console, a midcentury piece found at a consignment store.
Rug: Ikea; couch: Top Fashion Home
Sarah Greenman
Monica recently tried her hands at upholstering the slipper chair in the living room. The couple's latest find is this glass and wood coffee table. Their buddy, stylist Brandi Powers, found it on a neighbor's control for bulk trash pickup and rescued it.
Sarah Greenman
As with most older houses, the kitchen needed more focus. The couple installed new countertops, replaced all the light fixtures, upgraded the cabinetry and overhauled the island. "It is kind of a running joke between my husband and I once I tell him I'm considering starting another project," says Monica. "I know he is imagining my gamut of feelings: excitement, research overload, overwhelmed, stressed, upset, mad and, eventually, couldn't be more relieved that it is done."
Sarah Greenman
The quartz countertops were the few greatest splurge for the house. "Beautiful counters were a nonnegotiable for me," says Monica. The surfaces of the island are covered with faux wood flooring.
Pendant lights: West Elm
Sarah Greenman
The couple recently installed a herringbone tile backsplash in kitchen. Their next project is to replace the terra-cotta tile floor.
Sarah Greenman
The dining area, set for two, gets amazing filtered sunlight in the sunporch. Hand-me-down wood furniture contrasts using a modern light fixture.
The sliding glass doors resulting in the sunporch still have their original hardware. In the spring and summer, the Campbells hang out with their puppy in the sunroom, which connects the house and carport. "Eventually we've got dreams of enclosing the barn and turning it into a luxurious floor-to-ceiling-windowed office," says Monica.
Wall paint: Ashes, Behr; carpeting: West Elm

Sarah Greenman
Royal-blue walls make this small guest room feel expansive and spacious. The iron mattress was passed down from Morgan's parents. Monica says, "The blue is excellent, since it is very dark and inky at night but bright and cheery during the daytime."
The throw cushions on the bed along with the framed art overhead are made from classic vases; Monica awakens them from secondhand stores.
Wall paint: Starry Night Blue, Benjamin Moore
Sarah Greenman
Vintage photos and artwork rest on a hand-me-down rolltop desk.
Sarah Greenman
Little peeks of bold color brighten the central hallway, which results in a guest bath, a home office and the master bedroom.
Runner rug: Joss & Main; picture frames: Ikea

Sarah Greenman
Morgan printed a set of watercolor maps with this wall utilizing Stamen Design's watercolor map generator. Each map highlights places that are unique to the couple.
Wall paint: Ashes, Behr
Sarah Greenman
Bold chartreuse adds serious zing into the master bedroom. "We adore bold and saturated color," says Monica. "My husband's favorite color is chartreuse — I know, I'm a lucky woman. We have not regretted it!"
The couple found the corner chair in a Dumpster and sanded it down to give it fresh life.
Wall paint: Chartreuse, Benjamin Moore; mattress frame: West Elm; dresser: hand-me-down

Sarah Greenman
Morgan built the headboard and side tables to match the couple's existing bed frame.
Rug: Moroccan Trellis, Rugs USA
Sarah Greenman
Throughout summer time the Campbells normally hang out in their home office. "It is the perfect wintertime room, since the sun strikes the windows during the day," says Monica. "I love this room, because my husband can work on the computer and I will read a novel while our puppy sunbathes in the leather chair."
Flooring Paint: Z Gallerie; carpeting: West Elm; striped throw: Eivor, Ikea
Sarah Greenman
The couple comes with an easy time making layout choices together. Monica says, "My husband and I have very, very similar tastes, and also the list of compromises has been brief thus far."
Morgan refinished a length of reclaimed wood and paired it with a set of legs in Ikea to make his desk. A gallery wall hovers over a worn but enjoyed green leather couch. The couple frequently hosts game nights with friends, along with the home office is the best place to spread out and get comfy.
Wall paint: custom from Behr; floating shelves: Ikea
Sarah Greenman
Morgan and Monica Campbell relax with Griffin on the sunporch. "We love our neighborhood, since it is so busy. There are always individuals running, riding bicycles, walking dogs, playing at the park," says Monica.
See more photographs of the Home | Share your house with us