Tiny Vintage Los Angeles Apartment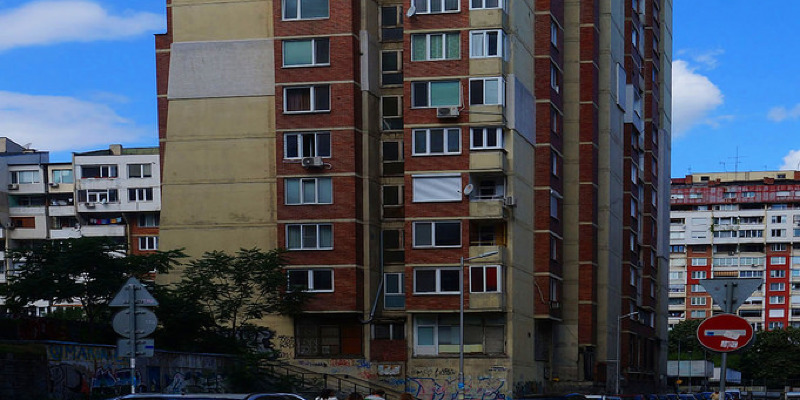 Little spaces leave little space for unnecessary items — the best accessories do double duty. While decorating her 410-square-foot Los Angeles apartment, jessica Lundby kept that in mind. Her vibrant classic style flows from room to room, but no space goes to waste. "I'm inspired by practicality," Lundby says. "Everything should be functional and need to have a purpose. If I'm going to redesign a space or begin a new project, it is because something about the color or flow is not working properly."
in a Glance:
Who lives here: Jessica Lundby
Location: Los Angeles
Size: 410 square feet
That's interesting: Lundby's building is one of the few buildings in her neighborhood that went up throughout the post–World War II housing shortage.
The majority of Lundby's furniture is classic, thanks to her love of antique stores and flea markets. But she's been fortunate enough to snag some great things from her loved ones, too. "For some things, like the Eames lounge chair, it is great to have a generous family with good flavor," she says.
Game plank on wall: antique store in Kansas; green footlocker: Pasadena City College flea market
A row of windows resulting from the living area to the kitchen allows lots of warm light into the adjacent spaces. Lundby wanted a caramel color for the space, so she mixed it herself with leftover paint till she got just what she wanted.
Printed canvas: J.C. Bissery
Lundby's kitchen table is just one of her favorite pieces in her home. It looks amazing with the Eames plywood chairs and is nearly equal to the café tables in the previous scene of Annie Hall. "I pretend it was one of them. And really, it might have been," she says.
Wall paint: Card Room Green, Farrow & Ball; table: That Is Not Ikea
Green chalkboard paint gives the kitchen a daring jolt of color and an ever-changing work of art. Lundby enjoys color and repaints all her chambers in the drop of a hat. "So much, I hope I've achieved a good general balance of warm and cool, and an interesting set of colours that sets just the right tone for each chamber," she says. "But who knows what the whole thing will look like three months from now?"
The cherry on the kitchen counters is one of those things that initially drew Lundby to the bright and colorful apartment. And plant life is a must — her next major project is to build window boxes for herbs and flowers away from the kitchen windows.
Lundby stores nearly all of her dry products in Galaxy syrup bottles from the 1950s. The company that produced these bottles went bankrupt before they were filled with syrup.
Black bathroom walls add to the older flat's midcentury feel. Built through the post–World War II housing shortage, Lundby's building is made with noticeably cheap substances. "Although I don't have any shared walls, my upstairs neighbor could still hear me sneeze and speak like a fool to my dogs," she says.
Wall paint: Soot, Benjamin Moore; mirror: Pepe's Thrifty Shop
The dark teal walls in Lundby's bedroom give the space a cozy but sophisticated vibe. "it is a deep and lovely green with a touch of blue, and provides the great cavelike atmosphere," she says.
Old family photographs and prints protect the bedroom walls, such as one of her favorite possessions — a 1960s black and white picture of her mother, grandmother and uncles. "No one is looking at the camera aware that my grandfather is taking the image, but the outcome is so charming that if all my material possessions abruptly disappeared, that would be the thing I'd cry first about," Lundby says.
Wall paint: Tarrytown Green, Benjamin Moore; mattress frame, shoe rack: Wertz Brothers Antique Mall; eraser printing: Jordan Crane; map: Long Beach antique mall
Lundby works for a shoe business, so having lots of space to put away all her favorite shoes has been vital. This classic rack, which she guesses was a mail sorter, does the trick perfectly.
Virtually everything in her home is antique, thrifted or repurposed in some fashion. The outcome is a well-loved home that never feels overly precious. Above is a snapshot of Lundby and a classic fan-belt rack she found in a flea market, which makes the best hanger for bracelets and scarves.
"Before I bought my first grownup couch last year, there was not a single thing which I lived with that cost me over $300," says Lundby. "Unless, of course, you count six years of dog food, toys and veterinarian bills. But I do not."
You can view more of Jessica Lundby's apartment on her website, No Accounting for Taste.
More:
Get ideas from more small, stylish homes